Vietnam Visa
Vietnam is a beautiful Southeast Asian country famous for its emerald-green rice terraces, vibrant street life, stunning landscapes, rich history, and mouthwatering food.
The sprawling capital of Hanoi in the north will entice you with its ancient pagodas, spectacular mountains, and amazing street food. Right in the center is the relaxing beach city of Danang and the picturesque riverside town of Hoi An. Down in the south, Ho Chi Minh City with its buzzing streets and colonial architecture will enthrall you. Nearby, the world-famous Mekong Delta with its mangrove forests and islands will bring out your inner adventurer.
What is a Vietnam Visa?
To enter Vietnam, travelers are required to have a valid visa approval letter before arrival and an official visa stamp upon arrival. The process to obtain the approval letter can be done online.
Do I need to apply for a visa before visiting Vietnam?
Yes, you need to have a visa before entering Vietnam. Around 24 countries around the world are exempted from visa requirements.
List of exempted countries: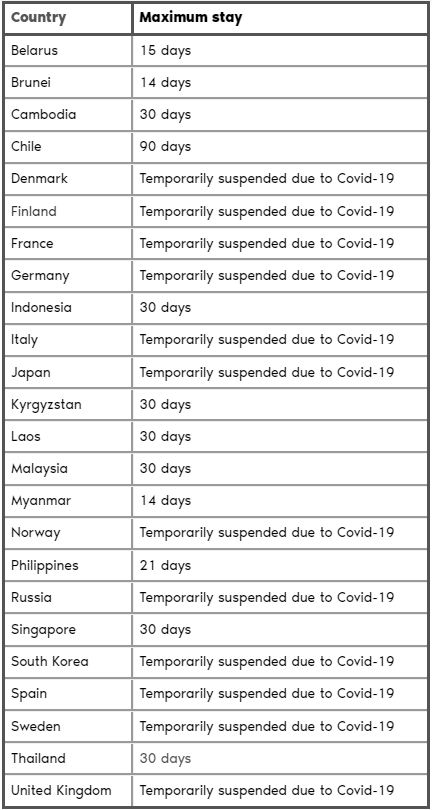 Note- The list of Vietnam visa exemption countries is provided for informational purposes only, please check with the official authorities before departure.
How to apply for a Vietnam Visa?
To visit the beautiful country of Vietnam, obtaining a visa-on-arrival will be your best bet. Visa-on-arrival is fast, easy, and convenient and it can be obtained by following these 4 easy to follow steps.
Apply for a Vietnam Visa online in 4 easy steps
Here's how you can apply for a Vietnamese visa online in 4 easy steps:
STEP 1: Start by filling out the secure online form here.
Open the link provided. Follow the steps and fill out all the necessary information in your application like your name, passport number, date of birth, nationality, gender, and arrival date.
This step is important for obtaining an approval letter, which you'll have to show upon arrival in Vietnam to get your visa stamped.
STEP 2: Confirm and pay
After you have confirmed the information and submitted the form, you'll have to pay a visa fee.
For the visa approval letter, you pay a fee of $17 and above, depending on the sort of visa you want and how many visas you're requesting.
You'll also pay a fee upon arrival for the visa stamp. This may cost a further $25 for one entry visa and $50 for multiple entries.
The stamping fee is paid in either Vietnamese dong or US dollars.
STEP 3: Receive and print the Approval Letter
Once you've paid the online fee, we will start processing your visa request. You will typically receive the approval letter via email within 2 business days.
After receiving your approval letter, you have to print out at least 2 copies of the letter, in color if possible.
You will also need to prepare and bring at least two (4cm x 6cm) passport-sized photos with a white background and without glasses.
STEP 4: Get your visa stamped upon arrival
Soon after landing in Vietnam, you can get your visa stamped upon arrival at one of four Vietnam international airports.
Travelers arriving at airports in Hanoi, Da Nang, Ho Chi Minh City, or Nha Trang, are required to complete an Entry/Exit form (available at the airports or downloadable from our website).
You will then present your approval letter, passport, photos, and cash payment for the stamping fee to receive the visa stamp.
After you get the stamp, you are done. All you have to do now is to enjoy your trip!
*Please note: Make sure your passport has blank pages for visa stamps and is valid for a minimum of 6 months at the date of your arrival in Vietnam. If your passport is nearing its expiration date, renew it before you arrive.
How Much Does a Vietnam Visa Cost
In order to obtain your Vietnamese visa, you have to pay two fees: the Approval Letter Fee (paid online) and the Stamping Fee (paid in cash at Vietnam airports).

Note: The fee table does not apply to citizens of the following restricted nations: All African Nationality groups, Mongolia, Algeria, Bahrain, Bhutan, Jordan, Kuwait, Gambia, Morocco, Nepal, Kenya, Oman, Qatar, Saudi Arabia, Timor-Leste, Tunisia, United Arab Emirates. Yemen, Namibia, and Malawi.
Why apply for a visa with BDATrip
Fast and Simple Procedure
We offer simple, fast, and easy-to-do visa application procedures. 100% online with clear guidelines which are considerably less complicated than government portals. No extra charges and complete transparency.
Secure data
We ensure protection and security with our world-class data centers and up-to-date technology for securing user records, account data, and information. Your data is safe with us.
Stay updated
We are constantly communicating with government agencies to ensure complete compliance with government guidelines. We will also keep you updated with the latest information about your visa process through email or phone.
Exceptional customer service
Our customer representatives are always ready to help you with any inquiry or problem 24/7. We will ensure that you are provided with the best customer service and a stress-free process for obtaining your visa!
Global Online Visa Services with BDATrip
BDATrip provides an easy-to-use platform that will help you obtain your travel visa with ease. Through our simplified online application form and 24/7 customer service, we make the whole e-Visa process quicker and simpler! We also use the latest technologies to secure your data to ensure that there is no data breach.
BDATrip offers travelers the ability to apply for e-visas for countries that allow visas on arrival: Vietnam, Thailand, Malaysia, Japan, South Korea, China, India, Canada, UK, France, USA, and Middle East countries.